Day 311.
I'm excited to let you all know that I've joined a wonderful group of hostesses participating in This Week's Cravings. My co-hostesses are: Tina at
Moms Crazy Cooking
, Kristen at
From My Tiny Kitchen
, Angie at
Big Bear's Wife
and Nicole at
The Daily Dish
. As hostesses, we will try our hardest to visit as many of the links we can. We all enjoy your links and look forward to gathering recipes each week.
And today is the linky party's First Anniversary, hence the "cakes" theme. This year the party is sticking with the same
SIMPLE RULES
and now all of the themes for the entire year are list here on the
THIS WEEK'S CRAVINGS tab
at Moms Crazy Cooking, plan ahead, check out the weeks you want to make sure to link up or just browse them to see what's going on.
As for my cake, as you may know from my past birthday cake postings, we like to make non-traditional cakes for our celebrations, such as
Lemon Ricotta Pound Cake with Peach Topping for Goose's birthday and Carrot Cake or Spice Muffins
for Bug's. This Linky-versary is no exception; I've morphed an Apple Coffee Cake into a delicious treat using some black plums from a recent CSA box.
Plum Coffee Cake
Ingredients
Streusel Topping
2/3 cup Bisquick or flour
2/3 cup packed brown sugar
1 teaspoon ground cinnamon
1/2 teaspoon ground nutmeg
1/4 cup cold butter or margarine
Coffee Cake
2 cups Bisquick
2/3 cup milk or water
3 tablespoons sugar
1 egg or egg substitute
2 cups diced black plums (about 5-6)
2 tablespoons chopped nuts (I used pecans)
Glaze
2/3 cup powdered sugar
2 to 3 teaspoons milk
Directions
Heat oven to 400. Spray 9-inch square pan with cooking spray. In small bowl, mix 2/3 cup Bisquick or flour, brown sugar, cinnamon and nutmeg. Cut in butter until the mixture is crumbly. I do this with a fork, but if you have a pastry cutter, that's apparently best. Set streusel topping aside.
In a medium bowl, stir together 2 cups Bisquick, 2/3 cup milk, the sugar and egg; beat 30 seconds with spoon. Spread half of batter in pan. Arrange plum pieces on batter; sprinkle with half of streusel topping. Spread with remaining batter; sprinkle with remaining streusel topping. Sprinkle with nuts.
Bake about 25-30 minutes or until toothpick inserted in center comes out clean. Cool in pan on cooling rack 20 minutes. In small bowl, stir glaze ingredients until smooth enough to drizzle. Drizzle glaze over warm coffee cake.
The Results
This cake was fantastic and incredibly simple. I actually like the plum version much better than the original apple, which I've made before. The husband and kids liked this unusually (for us) sweet breakfast treat.
Please Grab Our Button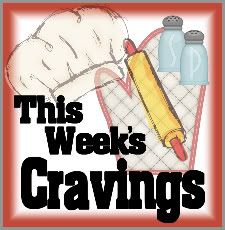 This Week's Cravings Upcoming Linky "THEMES"
Here is a complete list of the past and what's coming up next on
THIS WEEK'S CRAVINGS
!
November 14 - Your Best PUMPKIN Recipes
November 21 - Thanksgiving Dinner & Desserts
November 28 - French Toast, Pancakes, Waffles & More
December 5 - Christmas Baking: Sweets, Treats, Candy & Gift Ideas
If you are a regular link-up we're excited to see what you made this week. If you are new please read and follow the
simple rules
, so that everyone can enjoy the linky party! If you forget to follow the theme, your post will be deleted. Please don't feel hurt, just come back and link up a recipe that follows the theme. Thanks a million, we look forward to blogging with you!
The LINKY PARTY is open ALL Week!
PLEASE do not link more then 3 recipes per week.
This week's theme is: CAKES
Please only link recipes with our theme!
This week's theme is: CAKES
Please only link recipes with our theme!