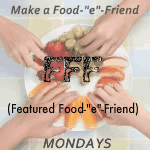 A warm welcome to readers from
The Saturday Evening Pot
, where I'm being featured today as part of Meet a Food-"e" Friend Monday.
At Veggie Converter, I am undergoing a challenge to cook meatless meals that vegetarians and omnivores alike will love. While I am a vegetarian, the rest of my family is not. So that COULD make dinnertime difficult. My New Year's resolution this year was to create meals we could all love by converting family-favorite meat dishes into omnivore-friendly vegetarian meals.
Those new to Veggie Converter: contact me at
Facebook
, twitter
@VeggieConverter
or by email at
veggieconverter@gmail.com
.
Please also check out my contributions at
Onceamonthmom.com
, including the latest
Vegetarian OAMM menu
; my OAMM twitter account:
@VegetarianOAMM
and the
OAMM Facebook Fan Page
.
Also feel free to peruse the
Recipe Index
for meatless meal ideas.
Doing some converting on your own? Try these
vegan whole foods meat substitutes:
More vegan substitutions: