Day 164.
I'm over at OAMM again this Monday and we're enjoying
Buffalo Chicken Bagel Pizzas
for dinner. These are great for the whole family. Anything pizza is great for kids and our tiny-ones love the slightly spicy flavor.
The Results
Ooh, yummy. I love the slightly spicy chickpeas. And, of course, the pizza part is fantastic. This is a definite winner.
Meatless/Vegan Monday Link-up
To participate this week here on Veggie Converter, you will be able to comment or link your Meatless Monday meals while I post my Meatless Monday challenge to myself, Vegan Mondays. If you're a vegetarian or vegan blogger and would like to be featured for Vegan Mondays, link up, or contact
veggieconverter@gmail.com
.·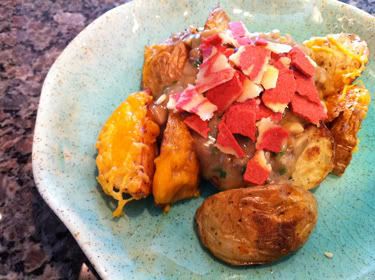 Now for the link-up rules: post your link to a meatless (vegan or vegetarian, or even an attempted meatless) recipe that you've posted on your blog.
Next week, a reader recipe that was linked up this week will be highlighted on Meatless (Vegan) Mondays. Each week you link up or comment, gives you an opportunity to be featured the following week.
Please join the Meatless (Vegan) Monday link-up. What Vegan or Meatless Monday Meal is your family having today?
This post is shared at·
Mouthwatering Mondays
,
My Meatless Mondays
,
Cravings
,
Menu Inspiration Monday
,
Just Another Meatless Monday
,·
Happy Homemaker Monday
,·
Homemaker Monday
.·
Meatless Mondays
,·
Mingle Monday
,
MMMmonday
,
Mangia Monday
,
Make a Food-e Friend
and
Monday Mania
.