Day 129.
It's another OAMM Monday and this week I'm having more delicious pasta with the vegan version of
Spicy Rice Balls
.

I had mine with macaroni noodles and
Bolognese
sauce.
The Results
Fantastic! The kids love these, too. They freeze really well and are super simple to make in the slow cooker. I love not having to fry these.
Meatless/Vegan Monday Link-up
To participate this week here on Veggie Converter, you will be able to comment or link your Meatless Monday meals while I post my Meatless Monday challenge to myself, Vegan Mondays. If you're a vegetarian or vegan blogger and would like to be featured for Vegan Mondays, link up, or contact
veggieconverter@gmail.com
. It was a great Meatless/Vegan Monday link-up last week. It was so hard to choose from all the yummy recipes. But I must be on a risotto kick, because this one stood out for me.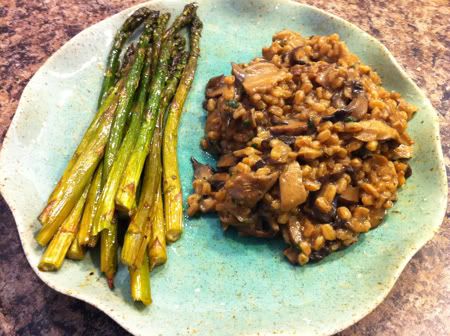 Now for the link-up rules: post your link to a meatless (vegan or vegetarian, or even an attempted meatless) recipe that you've posted on your blog.
Next week, a reader recipe that was linked up this week will be highlighted on Meatless (Vegan) Mondays. Each week you link up or comment, gives you an opportunity to be featured the following week.
Please join the Meatless (Vegan) Monday link-up. What Vegan or Meatless Monday Meal is your family having today?
This post is shared at·
Mouthwatering Mondays
,
My Meatless Mondays
,
Cravings
,
Menu Inspiration Monday
,
Just Another Meatless Monday
,·
Happy Homemaker Monday
,·
Homemaker Monday
.·
Meatless Mondays
,·
Mingle Monday
,
MMMmonday
,
Mangia Monday
,
Make a Food-e Friend
and
Monday Mania
.